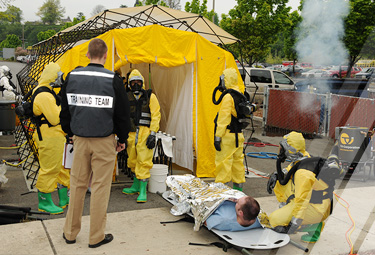 The SciTech Preparedness Division provides 20+ years of staff expertise and experience in real-world response to acts of terrorism and natural disasters, emergency management and response.   This Division employs individuals with previous military and federal/state/local government involvement in homeland security and defense with a focus on public safety and health.  The Preparedness Division brings experience in all-hazards emergency preparedness planning, equipment/system selection and procurement, didactic and hands-on training development.
Specialty areas include:
Emergency preparedness planning
Capability, needs and vulnerability assessments
Drill and exercise design, development, facilitation, control, evaluation and reporting
Cargo/vessel screening & security
Hazard and consequence prediction models
Chemical, Biological, Radiological, Nuclear and high-yield Explosives (CBRNE) programs for special operations, federal, state, and local agencies
SciTech teams with small and large businesses in order to provide the best complement of capabilities for responding to the client's needs and requirements.