SeaPort-Enhanced (SeaPort-e)
SciTech was awarded a SeaPort-e Indefinite Delivery/Indefinite Quantity (ID/IQ) contract vehicle in November 2013.  SeaPort-e is the Navy's electronic platform for acquiring support services in 22 functional areas including Engineering, Financial Management, and Program Management.  The Navy Systems Commands (NAVSEA, NAVAIR, SPAWAR, NAVFAC, and NAVSUP), the Office of Naval Research, Military Sealift Command, and the United States Marine Corps compete their service requirements amongst more than 2400 multiple award contract holders.  Task Orders are competed in geographical zones by the various ordering offices to meet program requirements.  The SciTech Team was awarded a contract to support Zones 1, 2, 3, 4, 5, 6 and 7 as indicated in the graphic below.
SciTech welcomes use of this contract vehicle in mutually rewarding collaborative efforts with other businesses, jointly meeting customer needs.
3.1 – Research and Development Support
3.2 – Engineering, System Engineering and Process Engineering Support
3.3 – Modeling, Simulation, Stimulation, and Analysis Support
3.4 – Prototyping, Pre-Production, Model-Making, and Fabrication Support
3.5 – System Design Documentation and Technical Data Support
3.6 – Software Engineering, Development, Programming, and Network Support
3.7 – Reliability, Maintainability, and Availability (RM&A) Support
3.8 – Human Factors, Performance, and Usability Engineering Support
3.9 – System Safety Engineering Support
3.10 – Configuration Management (CM) Support
3.11 – Quality Assurance (QA) Support
3.12 – Information System (IS) Development, Information Assurance (IA), and Information Technology (IT) Support
3.13 – Inactivation and Disposal Support
3.14 – Interoperability, Test and Evaluation, Trials Support
3.15 – Measurement Facilities, Range, and Instrumentation Support
3.16 – Logistics Support
3.17 – Supply and Provisioning Support
3.18 – Training Support
3.19 – In-Service Engineering, Fleet Introduction, Installation and Checkout Support
3.20 – Program Support
3.21 – Functional and Administrative Support
3.22 – Public Affairs and Multimedia Support
QUALITY ASSURANCE PROGRAM
SciTech is committed to strong enterprise management policies, practices, procedures and processes that assure quality.  Quality management is focused not only on the quality of the service but also the means to achieve it. Our QAP specifies the development of quality processes which are maintained by SciTech to achieve stated objectives and performance standards.  Consequently, quality management uses quality assurance and quality control of processes as well as products to achieve more consistent quality.
SciTech's quality assurance program is comprised of many components including:
Documentation of the policies and processes for meeting overall requirements and performance outcomes.
Management processes including planning, scheduling, training, process monitoring, and feedback for both instant remediation and continuous incremental improvements to processes, and providing resources for work efforts.
Qualification processes for personnel to be able to perform their work assignments.
Provisions for continuing training of personnel in order to maintain their job proficiency.
Processes to identify and correct quality deficiencies.
Procedures to identify, prevent, and ensure non-recurrence of defective services.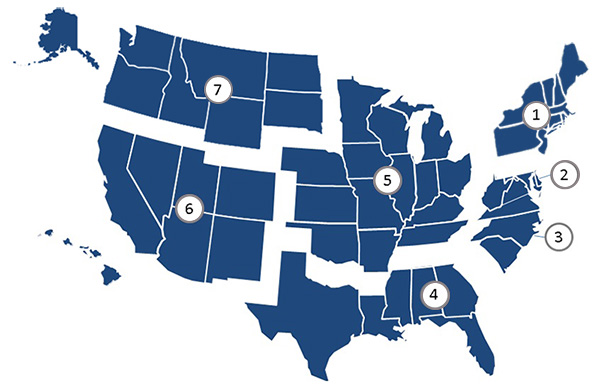 The SciTech Team was awarded a contract to support Zones 1, 2, 3, 4, 5, 6 and 7.
Zone 1 – Northeast
Zone 2 – National Capital
Zone 3 – Mid-Atlantic
Zone 4 – Gulf Coast
Zone 5 – Midwest
Zone 6 – Southwest
Zone 7 – Northwest
No Current Task Orders at this time.
SciTech teams with small and large businesses in order to provide the best complement of capabilities for responding to the client's needs and requirements.